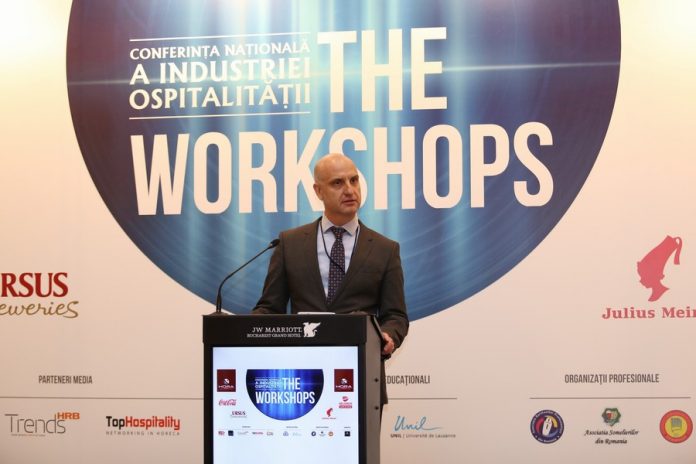 Organizația Patronală a Hotelurilor și Restaurantelor din România (HORA), a organizat în data de 10 octombrie The Workshops, la București, cel mai mare eveniment dedicat educației din domeniul HoReCa.
The Workshops este cel mai mare eveniment de profil din acest an, integrând nu mai puțin de 10 seminarii distincte, care se vor desfășura pe parcursul unei singure zile, și reunește o echipă de traineri formată din cei mai buni profesioniști din industrie, alături de mai mulți reprezentanți guvernamentali, precum Oana Iacob, Secretar de stat în Ministerul Finanțelor Publice, Dragoș Petrescu, președinte HORA, Călin Ionescu, COO KFC, Pizza Hut, Paul, Hard Rock, Daniel Mischie, CEO City Grill Grup, Andrei Goșu, CEO Ascendis, Florin Godean, CEO Addecco și mulți alții.
Participanții, proprietari și top manageri din industria HoReCa precum și profesioniști din domenii conexe, au avut astfel ocazia să afle secretele necesare pentru a-și asigura succesul în lupta cu competitorii.
"Educația este cheia succesului în afaceri. Cunoașterea te ajută să nu repeți greșelile celorlalți, să fii mereu cu un pas în fața lor și să îți poți face un business plan realist. Pentru că, în industrie, mai ales dacă ești la început de drum, prima greșeală poate fi și ultima.
De aceea, HORA a decis organizarea The Workshops, astfel încât antreprenorii din industrie care își doresc să fie cu un pas în fața celorlalți să aibă acces direct la know-how de cel mai înalt nivel. Seria The Workshops vine ca o continuare firească a primei ediții a Conferinței Naționale a Industriei Ospitalității, care s-a bucurat de un mare succes.
Dacă la Conferință am identificat trendurile și nevoile industriei, la The Workshops livrăm soluții inovatoare, aplicabile la nivel local și compatibile cu valorile ospitalității", arată Dragoș Petrescu, Președinte HORA.
Cum să-ți construiești echipa, cum să alcătuiești un business plan de succes, secretele comunicării în ospitalitate sau trenduri și soluții performante de dezvoltare a unui multi-unit restaurant sunt doar câteva dintre temele care au fost abordate în cele 10 workshopuri distincte ale evenimentului, dedicate unor domenii precum: Resurse umane, Business planning, Operațional, Comunicare, Dezvoltare.
"Cunoașterea înseamnă putere în primul rând pentru că te împiedică să faci erori stupide. Antreprenorii din HORECA trebuie să investească mai mult în obținerea de know-how. Avem suficienți profesioniști în HORECA autohtonă de la care să furăm meserie. Trebuie doar să fim deschiși să învățăm de la ei", subliniază Tinu Sebeșanu, președinte de onoare HORA.