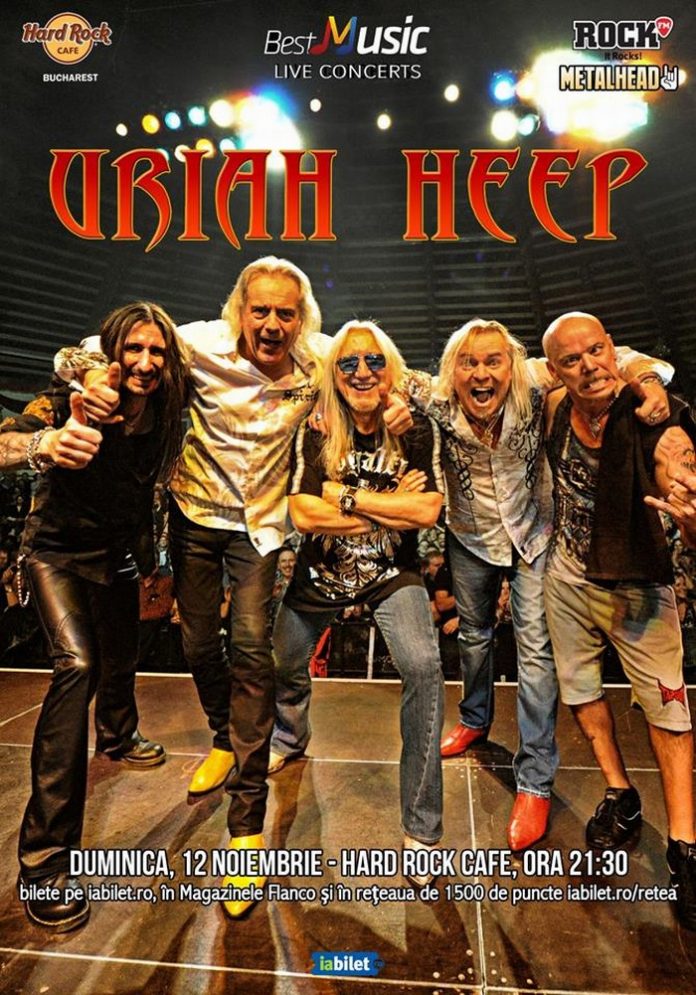 Legendara trupă britanică Uriah Heep vine în premieră la Hard Rock Cafe din București, pe 12 noiembrie, de la oră 21:30. Pentru un show special, nu vom avea mese în fața scenei.
Trupa s-a înființat în anul 1969 și este considerată unul dintre cele mai importante trupe rock ale anilor `70. De-a lungul carierei, Uriah Heep, a susținut turnee în toată lumea și a uimit cu show-urile live care au adus laolaltă fani vechi și noi. Printre piesele care au faacut istorie în lumea muzicii rock se numără "Gypsy", "Easy Livin`", "July Morning" și "Lady în Black", inclusiv varianta alături de IRIS. Piesa a ajuns în fruntea topurilor din Germania.
Uriah Heep este formată din: Mick Box – chitara, backing vocals,  Phil Lanzon – clape, backing vocals and solist, Bernie Shaw – solist and backing vocals, Russell Gilbrook – tobe, percutie si Davey Rimmer – bass.
Bilețele se găsesc în format electronic pe www.iabilet.ro și în rețeaua fizică iabilet.ro/rețea : Magazinele Flanco, Metrou Unirii 1 lângă casa de bilete Metrorex, Magazinul Muzica, Expirat Halele Carol (în intervalul orar: 18:00-22:00), Magazinele IQ BOX-Telekom, Cafe Deko, Club Vintage, Club Quantic, Hard Rock Cafe, Agențiile Perfect Tour, Magazinele Uman și pe terminalele self-service ZebraPay din toată țara.
Biletele au următoarele prețuri:
-Cu loc la masă în sală: 115 lei
-Fără loc, în față scenei: 79 de lei
Un eveniment BestMusic Live Concerts powered by ROCK FM, susținut de RIN Grand Hotel.