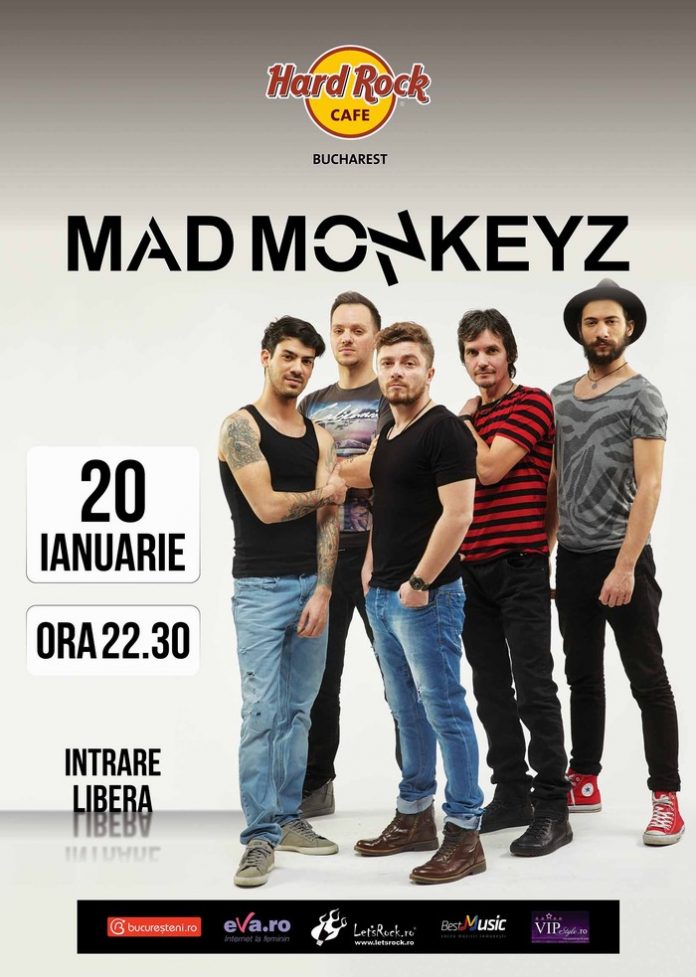 Să înceapă nebunia! Pe 20 ianuarie membrii trupei Mad Monkeyz te așteaptă la Hard Rock Cafe pentru o seară plină de energie. Vei cânta și dansa alături de ei pe ritmuri amețitoare de pop, pop-rock, funk, R&B, dance, rock și hip-hop.
Angus, la chitară, a colaborat deja, la doar 24 de ani, cu trupe și artiști cunoscuți precum Mihai Chițu, Tiberiu Albu, Teodora Buciu sau The R.O.C.K. România.
Sebastian Blaj, keyboard, acoustic guitar și backing vocals, a fost, timp de 3 ani, clăparul trupei Talisman, cântând apoi alături de concurenți de la X Factor și Vocea României.
Mircea Burete Preda, bass și backing vocals, este cunoscut mai ales datorită colaborării cu Holograf. De-a lungul timpului a mai cântat cu Voltaj, Direcția 5 și Vița de Vie.
Mirko Grusa, drums, a colaborat de-a lungul timpului cu trupe din Germania și din Romania printre care Trupa Cortez, Mihai Chițu Band, Puia, Adrian Sana, The R.O.C.K. România și Triplu Sec.
Grigoraș Mihai, voce, drums, guitar, a participat la Vocea României, unde a avut ocazia să colaboreze cu Horia Brenciu. Este unul dintre fondatorii trupelor Compania 7 și Time Out Band, iar de-a lungul timpului a mai colaborat cu diferite formații cum ar fi Mihai Chițu Band, Special Guest Orchestra, Alex Porro Band, Trupa Vis, Triplu Sec și altele.
Intrarea la concert este liberă.