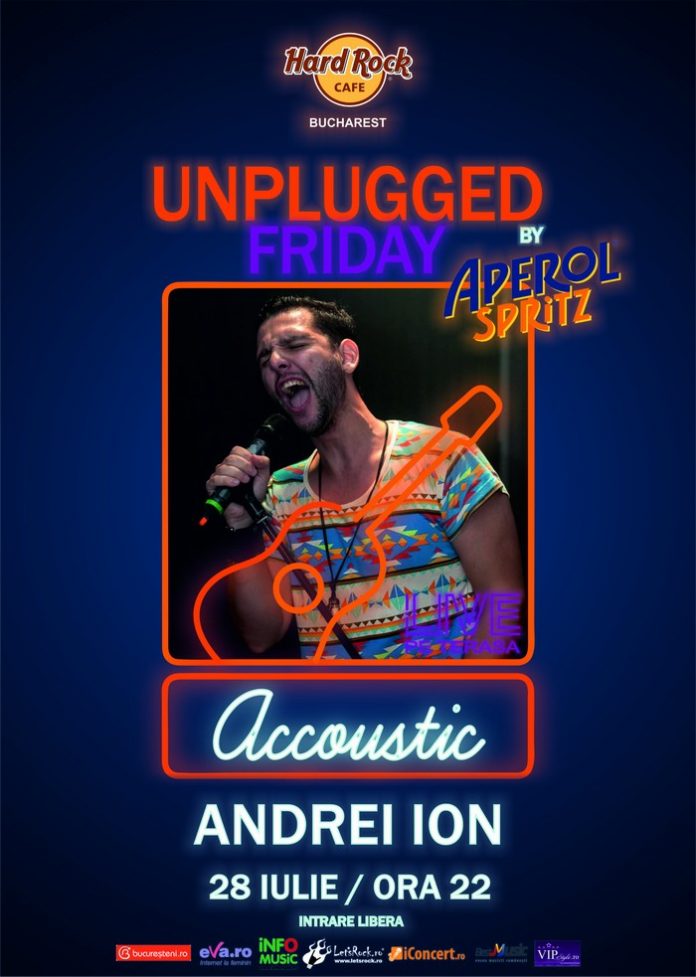 Vineri, 28 iulie, ora 22.00 – Unplugged Friday cu Andrei Ion pe terasa Hard Rock Cafe
Pentru un început perfect de week-end vino în fiecare vineri la Hard Rock Cafe să îţi iei porţia de muzică, voie bună şi deconectare la Unplugged Friday by Aperol!
Vei asculta cele mai iubite melodii din topurile internationale, reorchestrate în variantă acustică şi te vei bucura de o seară în aer liber, cocktailuri răcoritoare şi atmosfera de vacanţă .
Cunoscut publicului de la Vocea României, Andrei Ion va asteapta pe 28 iulie, de la ora 22.00, cu o selecţie de hituri rearanjate acustic. Veţi asculta "All Of Me" (John Legend), "Liquor Store Blues (Bruno Mars), "Soulstorm" (Patrice), "No Diggity" (Chet Faker), "Shape of You" (Ed Sheeran) şi multe alte piese de suflet, interpretate cu multă căldură de cel supranumit "Vocea de catifea a României".
În formula ce va concerta pe terasa Hard Rock îi regăsim pe: Andrei Ion – voce, Daniel Radu – pian, Stefan Constantinescu – chitară acustică.
Intrarea este liberă şi distracţia nelimitată!
Hard Rock Cafe
Sos. Kiseleff nr.32
Rezervari: 021-206.62.61
www.hardrock.com/bucharest