International Wine Contest Bucharest 2019 – VINARIUM is taking place between May, 23rd – 26th. IWCB 2019 is organized under the Patronage of OIV (the International Organization of Vine and Wine) and VINOFED (the World Federation of Major International Wine and Spirits competitions).
Registration process:
Deadline for registration process (on-line or by e-mail) is April, 30th.
Registration fee:
1-5 samples              70 euro / sample
5+ samples               60 euro / samples
Please visits out website at www.iwcb.ro/en  to check all details.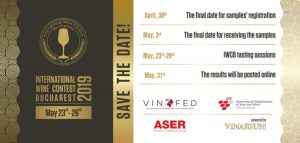 We are looking forward to receiving your wines into our competition and we wish you good luck!
Friendly yours,
Daniela Paduraru
Executive Manager