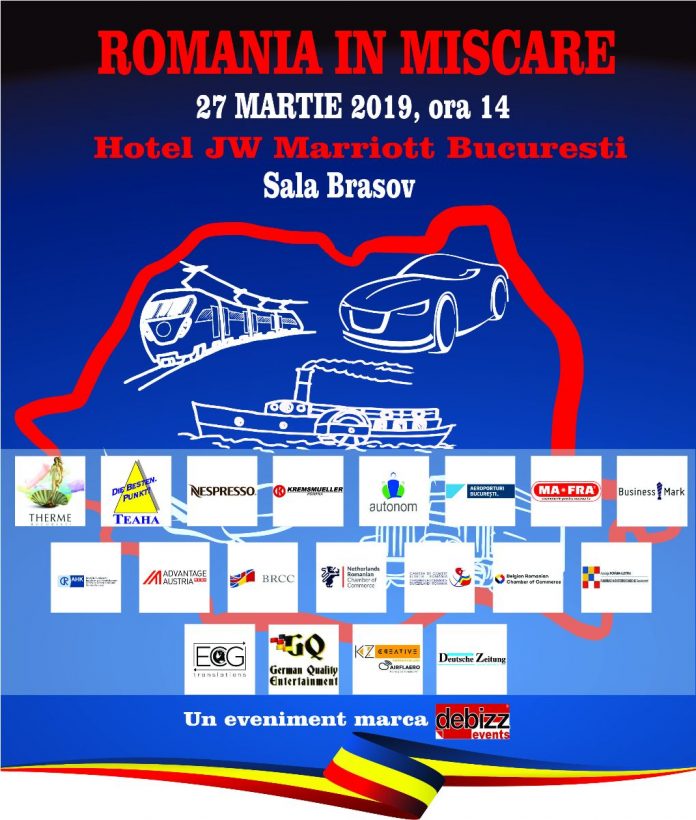 Incepem primavara cu cea de-a 4 a editie a evenimentului nostru de mobilitate, "Romania in miscare" ce va avea loc Miercuri 27 Martie, la Hotel J.W. Marriott Bucuresti, incepand cu ora 14:00.
Evenimentul se bucura de prezenta presedintilor si membrilor din conducerea camerelor bilaterale de comert, precum si a oamenilor de afaceri locali din mediul vorbitor de limba germana (si nu numai), factori de decizie in companii de top din Romania si din strainatate, reprezentanti ai unor companii din domeniul asigurarilor, transportului rutier / aeronautic / naval sau feroviar, dealeri si importatori auto, producatori de componente auto etc.
Printre speakerii de la acest eveniment se vor numara:
Marius Stefan – Autonom;  CONFIRMAT
Valentin Iordache – Compania Nationala Aeroporturi Bucuresti; CONFIRMAT
Marius Puiu – Blue Air; To be confirmed
Automobile Bavaria; To be confirmed
Viorel Leca – Gebruder Weiss; To be confirmed
Reprezentant Allianz Tiriac Asigurari; To be confirmed
UBER Romania; To be confirmed.
AGENDA EVENIMENTULUI :
14:00 – 14:30 – Receptie participanti & welcome coffee
14:30 – 14:45 – Introducere si scurta analiza contextuala
14:45 – 16:15 – Dezbatere tematica – Romania in Miscare
16:15 – 18:00 – Brunch & Networking
Participarea se face prin inscriere si confirmare pe pagina Debizz Magazine in limita locurilor disponibile. INSCRIE-TE AICI
Avem marea rugaminte sa ne confirmati participarea pana cel tarziu 22 Martie 2019.