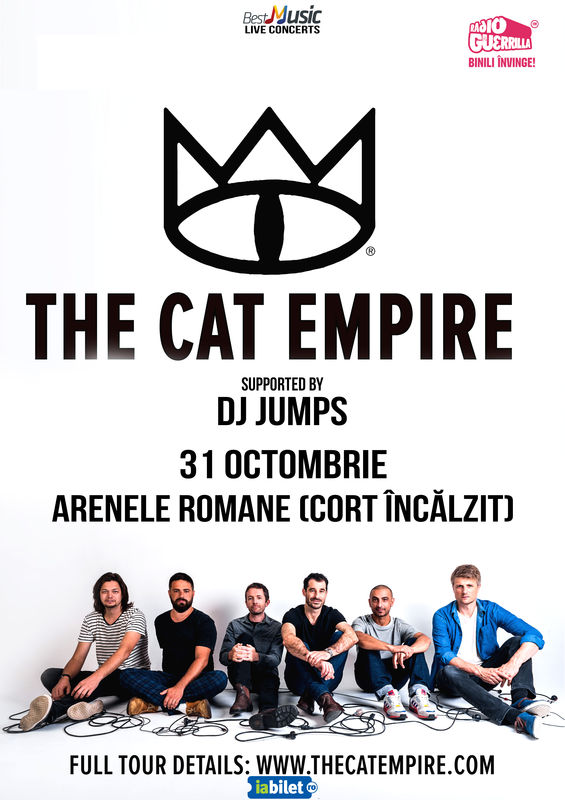 De peste un deceniu The Cat Empire sunt cunoscuti drept una dintre cele mai tari trupe din lume cand vine vorba de distractie si voie buna iar dupa succesul de la Shine Festival de vara asta, pe 31 octombrie, australienii revin la Bucuresti la Arenele Romane (cort incalzit) pentru a-si prezenta piesele care i-au facut celebri 🙂 In deschidere va canta DJ JUMPS! Primele 100 de bilete din fiecare categorie au pret special, apoi se scumpesc!
Muzica lor colorata a facut inconjurul lumii si este dificil de descris si foarte greu de categorisit. Reputatia trupei s-a construit pe un show live haotic si puternic, show vazut in recentul turneu de peste jumatate de milion de fani care si-au cumparat bilete la concertele trupei.
O data cu cel mai recent album "Rising With The Sun" care s-a situat in TOP 20 in 16 tari din lume, trupa a pornit in cateva turnee mondiale incununate de succes! Solistul Felix Reibl descrie albumul ca o lume explozica plina de artificii si arome exotice alaturi de un ritm foarte adanc. The Cat Empire scrie cantece care fac oamenii sa danseze si muzica ce-ti da impresia ca tocmai ai fost furat si introdus intr-o parada mare si colorata. Dupa showul sold out din 2016 din aceeasi locatie, se anunta o seara de neuitat din nou!
Legenda spune ca trupa s-ar putea sa vina cu piese noi in acest turneu!
Biletele se gasesc in format electronic pe www.iabilet.ro si in reteaua fizica iabilet.ro/retea : Magazinele Flanco, Hard Rock Cafe, Metrou Unirii 1 langa casa de bilete Metrorex, Magazinul Muzica, Magazinele IQ BOX – Telekom, Agentiile Perfect Tour, Magazinele Uman si pe terminalele Selfpay din toata tara.
Biletele au urmatoarele preturi:
– primele 100 de bilete din fiecare categorie: 85 lei Acces General, 115 lei Golden Circle (in fata scenei)
– Earlybird: 95 lei Acces General si 125 lei Golden Circle pana pe 15 august
– Presale: 105 lei Acces General si 135 lei Golden Circle pana pe 31 octombrie
– La Acces: 120 lei Acces General si 150 lei Golden Circle
Online pe www.iabilet.ro, poti plati cu cardul, prin Paypal, pe factura la Vodafone sau Orange cu plata la sfarsitul lunii sau ramburs cu plata cash prin FanCurier oriunde in tara.
Zona Golden Circle din fata scenei are doar 400 de locuri. Accesul in aceasta zona se face pe baza de bratara pe care o primiti la intrare. Accesul copiilor sub 7 ani este gratuit daca sunt insotiti de un parinte.
Un eveniment BestMusic Live Concerts, powered by Radio Guerrilla