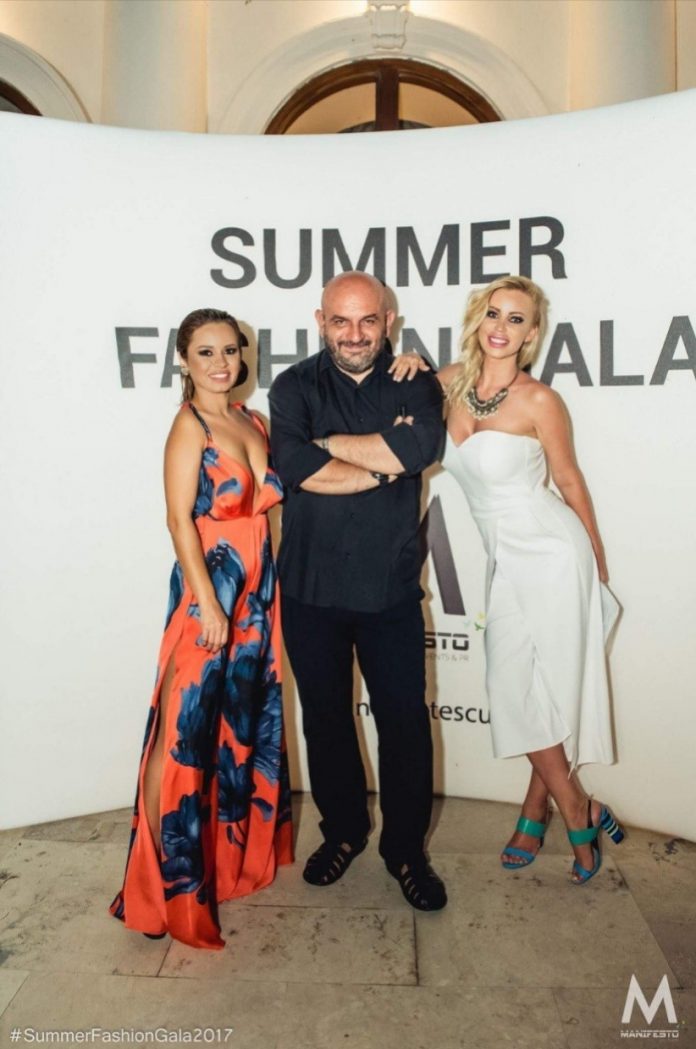 Marţi, 1 August 2017, a avut loc Summer Fashion Gala, un eveniment organizat de Manifesto Events&PR şi Alin Gălăţescu, în cadrul unei locaţii de poveste, Grădina Palatului Ghica Tei.
Cei peste 500 de invitaţi prezenţi la gală au luat parte la un show spectaculos de modă. Jurnaliştii, bloggerii de modă şi iubitorii de frumos au putut admira cele mai recente colecţii a celor 12 designeri consacraţi pe plan naţional dar şi internaţional.
Cunoscut ca fiind un perfecţionist în organizarea evenimentelor atipice de fashion, Alin Gălăţescu, a surprins încă o dată extrem de plăcut.
Designerii şi brandurile care au încântat audienţa, au fost: Aleha Toncea, Andreea Veneciuc, Adis Efect by Adriana Mândreanu, Anki Permoda, Alice Design, IzaVan Dee, L`Atelier Couture by Loredana Ciangau, Montiago by Liliana Fenechiu, Marie Ollie, Oana Nuţu, Stada Boutique by Georgiana Stavrositu şi Tezyo by Otter Distribution.
După cum bine ştiţi, în luna aprilie ne-am bucurat împreună de eleganţă şi design românesc la primul eveniment din cadrul conceptului #AllSeasons Fashion Gala, şi anume, Spring Edition la Grădina Botanică.
Un moment special a fost atunci cand organizatorii Summer Fashion Gala au anunţat că susţin Campania pentru recuperarea copiilor cu autism. Campania este iniţiată de Asociaţia Help Autism, care au grijă de peste 500 de copii.
All Seasons Fashion Gala reprezintă un concept inedit, ce îşi propune să devină un eveniment de interes major al modei autohtone şi este organizat de Manifesto Events&PR – www.manifestoevents.ro, în parteneriat cu Alin Gălăţescu, cunoscutul analist de modă.
Urmatoarea ediţie: Am aflat de la organizatori faptul că ne pregătesc o gală surprinzătoare pentru sezonul următor.
Şi pentru că evenimentele care promovează frumosul devin tot mai rare, suntem extrem de curioşi să aflăm despre ce este vorba.
Ediţia va avea loc în luna noiembrie, într-o locaţie la fel de interesantă, aşa cum organizatorii ne-au obişnuit.
Sponsorii evenimentului au fost: IQOS, Strongbow, Martini, My Cliniq – Creator of Beauty, Hyalax, Autoklass – Official Home of Mercedes-Benz, Aqua Carpatica, Domeniile Sâmbureşti, FotografiBucuresti.ro, Tezyo by Otter Distribution, Profi Print, Topline, FIT4YOU, Cyber Event, Hotel Boutique Cherie, Geta Voinea Factory & Geta Voinea Hair&Beauty Salon, Şcoala de Make-up Raluca Paraschiv, Îngheţata Rolls, Beauty One, Cutia Zâmbetelor, Dulciurile Sweet Moments, Rentlimo, Zâmbete în Ramă, Christian Tour, Bamboo Group.
Parteneri media: Virgin Radio România, City Vision Magazine, Iqool, Cancan, Click Pentru Femei, kfetele.ro, Stylished Magazine, eva.ro, socialagenda.ro, Elegantine, VIPstyle.ro, Ciao.ro.
Show-ul a fost prezentat în regim de Livestreaming pe: eva.ro
Credit Photo:
The Moment Photography
Stefan Ovidiu
Mihai Cerveneanu.